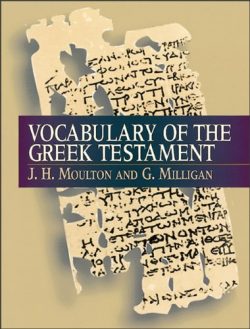 Vocabulary of the Greek Testament: Student Edition (VGNTS)
Updated to Version 1.5
'Vocabulary of the Greek Testament: Student Edition' (VGNTS) is an update/revision by Allan Loder of Moulton's and Milligan's 'VGNT' published 1924-1930. It is based on the 1929 print edition — which is now in the public domain — along with some supplemental material from the 1930 edition. However, this is not merely an electronic reproduction of Moulton's and Milligan's book. Rather, it is a major update/revision designed to make this valuable resource more accessible to a wider English-speaking audience — especially those whose knowledge of the Biblical languages is very basic, "rusty," or non-existent.
Each lexical entry is keyed to Strong's numbers, has a transliteration and an English gloss.
There are over 937 new entries, not covered in the original print edition
New source materials are added to existing lexical entries, where available and deemed helpful.
There are over 500 cross-references to other related lexical entries within the module
Inline English translations are provided for all Greek text, as well as for most Hebrew, Aramaic, Syriac, Latin, French and German text. A transliteration of some text is also provided, where deemed helpful.
Pertinent information, such as units of measure, currency, names of Egyptian months, official titles, etc., is provided and hyperlinked.
Please note: This resource is protected under derivative copyright law.
Video by Allan Loder on VGNTS
To Purchase this resource:
https://www.thewordbooks.com/index.php/ ... ion-vgnts/