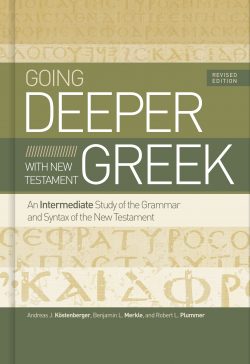 Going Deeper with New Testament Greek
DESCRIPTION
In his final letter to his foremost disciple, the apostle Paul made this solemn appeal: "Be diligent to present yourself approved to God, a worker who doesn't need to be ashamed, correctly teaching the word of truth" (2Tim 2:15). The message is clear: Timothy (and, by implication, all teachers of God's Word) must work hard to arrive at a correct interpretation of any given passage of Scripture. Such careful attention to correctly interpreting Scripture was to set Timothy apart from false teachers such as Hymenaeus and Philetus (2Tim 2:17). Since the NT was written in Greek, and since inerrancy and inspiration extend specifically to the Scriptures in the autographs (original manuscripts), a good working knowledge of NT Greek greatly enhances one's interpretive skill.
In this book, we hope to stir in you a passion, and to provide you with the necessary tools, to "go deeper" in your pursuit of your mastery of NT Greek. You've taken a course or two in elementary Greek, or perhaps taught yourself by using some of the many helpful tools that are available. You've memorized the most common Greek vocabulary, learned the basic forms of the Greek noun, adjective, and verb, studied foundational principles of Greek syntax, and tried your hand at translating NT texts of increasing difficulty. But you know that you've got more to learn. We want to help you take your knowledge of NT Greek to the next level, not as an end in itself but as a means to correctly interpreting and teaching God's Word. So are you ready? Let us take a moment to get oriented, and then we'll be off and running in our quest to "go deeper" with NT Greek.
theWord Features
Easy navigation of topics via topics tree display.
[/list]
To Purchase this resource:
https://www.thewordbooks.com/index.php/ ... ent-greek/