From this page you can upgrade your installation of theWord to the latest version. Please, click on the Download now button to get the latest version.
The upgrade is a self-installing executable file. Please, shut down theWord if it is already running and then just double click on the file you downloaded to execute it. Follow the on-screen installation instructions.
Upgrade information
| | |
| --- | --- |
| The latest available version is: | 5.0.0.1450 (published May 17, 2015) |
If you want to check what's new before upgrading, please consult the official change log here or go directly to the list of changes for version 5.



Stay tuned!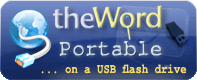 Useful links
Email updates
Enter your email to be notified for updates on program and modules
Is it safe to give you my email?
Latest version
The latest version of theWord is 5.0.0.1450.
Find out how you can check what version you are using
Random verse
And the Word became flesh, and dwelt among us (and we have contemplated his glory, a glory as of an only-begotten with a father), full of grace and truth; (John 1:14)