theWord consists of the main program (engine), and a list of add-on modules like Bibles, in different languages, commentaries, dictionaries, books, maps, fonts, different translation files, etc.
theWord supports add-on modules in many languages and also supports many different languages for it's user interface.
To make the download procedure easier, several packages have been created. Each package is actually a combination of the main program along with different add-on modules. If this is the first time you have come here, it is suggested that you download the main package. You can come back later and download more add-ons.

Main package download (English)
Add-on modules: Bibles, Commentaries, Dictionaries, Books and more
Expand your library with add-on modules and take a look at 3rd party modules.

An ever-growing library of add-on resources is available for theWord. The list is growing all the time.

Upgrade from a previous version
If you already have a previous version installed, you can select the binary only package to upgrade to the latest build. Use this option only if you already have at least version 3 installed. To upgrade from version 2 and prior and any pre-release version 3, please download a package (either the main or a smaller one):
Binary only package (if you already have at least version 3)
Other downloads
• Download the manual in PDF and in other formats
• Download the un-official Importer Tool to import modules from other formats
• Download translations of the interface of theWord in several languages
• Download other utilities and files


Stay tuned!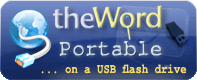 Useful links
Email updates
Enter your email to be notified for updates on program and modules
Is it safe to give you my email?
Latest version
The latest version of theWord is 6.0.0.1527.
Find out how you can check what version you are using
Random verse
My sheep hear my voice, and I know them, and they follow me; and I give them life eternal; and they shall never perish, and no one shall seize them out of my hand. My Father who has given [them] to me is greater than all, and no one can seize out of the hand of my Father. (John 10:27-29)