theWord is free software. Nevertheless it is actively supported both by its author and a large user community.
There are a lot of ways to get support and help with any question you may have regarding the software and accompanying resources.

Consider the following alternatives
- User forums: there is a large community of users ready to respond to your questions. The user forums are monitored closely and is by far the fastest way to get an answer to your question.

- Questions and Answers (FAQ) section: many common questions are answered in this special section of the site. Please, look there first to see if your question is included.

- Documentation: Read the manual of theWord online or download it as a PDF or as CHM for use from within theWord.

- Contact by email: you may ask a question by sending an email to mailto:[email protected]. Please, notice that direct emails are answered with low priority, especially if the same information can be found on the forum or in the FAQ section. Please, use this means only as a last resort and if you are still unable to find an answer to your question.
International support
In general, questions should be posted in English. There is, though, limited support for the Greek and German languages. Based on the volume of questions, new special sections will be created at the forum for non-English speaking support.
Report a bug or an error in a module
if you found an error in the program or in an official resource (Bible or Book), you can submit a bug report. Before doing so make sure that what you have encountered is a real problem. If you are unsure, just post a question at the user forums.
To submit a bug report, please send an email to [email protected]. Please, be sure to include the necessary steps to reproduce the problem.


Stay tuned!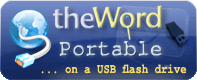 Useful links
Email updates
Enter your email to be notified for updates on program and modules
Is it safe to give you my email?
Latest version
The latest version of theWord is 6.0.0.1527.
Find out how you can check what version you are using
Random verse
and walk in love, even as the Christ loved us, and delivered himself up for us, an offering and sacrifice to God for a sweet-smelling savour. (Ephesians 5:2)