theWord has been designed to be portable. This means that you can load it on a USB flash drive and take it with you. You can just put the USB flash drive in any PC and everything is there with you!
Your personal notes, your favorite Bible translations and Books are always with you!
Although you can make your own portable installation of theWord, you may prefer to get theWord toGo, a pre-configured flash drive that includes free premium modules worth its value.
Moreover, this is the best way to actively support theWord and also get back a very nice and useful gift.
Installing a portable version of theWord by yourself
theWord is free, and this means that you can freely make a portable version of it by yourself.
To do this, follow these steps:
Download the software (any package) along with any add-on modules you want. If you have already downloaded and installed on your PC, you don't need to re-download. Use the same installer.
Run theWord installer. Wait for it to start.

On the welcome screen, click Next.
Please, read carefully the License Agreement and click I Agree if you fully agree with it
On the 3rd screen of the installer (Installation type) select Compact (Single folder) and also check the USB flash drive mode option. Click Next
From the next screen (Choose components) select the modules you want installed on your USB flash drive. Click Next
Make sure the USB flash drive is inserted in a USB slot of your PC. From the next screen (Choose install location) click Browse and select the drive letter of the USB flash drive
Click Install and wait until the installer finishes. That's it!
To run the program, open from your windows explorer the USB flash drive and double-click on the
theword.exe
file. Remember that you should not pull the USB flash drive from the PC while the program is running or you will loose unsaved data.

Stay tuned!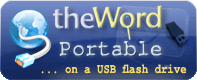 Useful links
Email updates
Enter your email to be notified for updates on program and modules
Is it safe to give you my email?
Latest version
The latest version of theWord is 6.0.0.1527.
Find out how you can check what version you are using
Random verse
Jesus said to her, I am the resurrection and the life: he that believes on me, though he have died, shall live; (John 11:25)