Skins
theWord Skin Tutorial - This is an in-depth tutorial on making skins for theWord. It is in .pdf format. You will need Adobe Acrobat Reader to view this tutorial (or similar PDF viewing program). Also, for this tutorial, it would be useful to download the Silverpoint SkinEditor from here. This editor will be a great help in developing skins for theWord. To view in your browser, simply click the link; to download, right-click the link and press Save-As (or similar).

Stay tuned!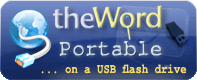 Useful links
Email updates
Enter your email to be notified for updates on program and modules
Is it safe to give you my email?
Latest version
The latest version of theWord is 6.0.0.1527.
Find out how you can check what version you are using
Random verse
And he rose up and went to his own father. But while he was yet a long way off, his father saw him, and was moved with compassion, and ran, and fell upon his neck, and covered him with kisses. (Luke 15:20)