Several users of theWord have taken the time to create several modules. From this page you can find links to external sites that distribute hundreds more modules for theWord.
Notice that the responsibility of the content and copyright of the distributed modules in these sites is solely on their owners/creators and theWord has no official affiliation with any of them. No official support can be given for these modules, if you need help please contact the site owners.
Sites officially maintained

Stay tuned!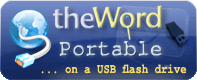 Useful links
Email updates
Enter your email to be notified for updates on program and modules
Is it safe to give you my email?
Latest version
The latest version of theWord is 6.0.0.1527.
Find out how you can check what version you are using
Random verse
[ And] Jesus said to them, I am the bread of life: he that comes to me shall never hunger, and he that believes on me shall never thirst at any time. (John 6:35)