theWord is fully localizable. This means that all messages, menus and everything you see on the program (apart from the actual resources like Bibles, books, etc.) can be translated in your own language.
To add a language for the interface of theWord, you just need to download the appropriate file(s) from this page.
Instructions - how to add a new language
Download the file you want from the following list. You can add more than one language if you want by repeating this procedure.
Once you download the file, double-click on it to execute it. An installer will start. Follow the on-screen instructions.
When the installer finishes, make sure you restart The Word.
From within the program, locate the menu File -> Languages. From there, you can change the language of the interface of the program.
Updating an existing language file
The language files may get updated or corrected as new versions are released or when errors are detected. You can use the same procedure if you want to get an updated version of a language file you are already using. To find out the version of the language file you are using:
Open The Word
From the main menu, go to Help -> About
In the About Dialog, click on the File locations tab (the last one)
At the bottom of the screen, there is a list with all files used by the program. Locate in there the file corresponding to the language you use (if you click on the Type column, the list will be sorted, thus making it easier to locate the entry you want). The Type column for language files should write .lng. For example, the language file for the English language is named english and the Type column should read .lng.
Now, notice that in the File column, after the name of the file there is the version of it (e.g. english (ver. 3.0.0.541-31)). This is what you need to compare with the latest version of the language file here.

If all the above seems complicated, you can alternately select from the main menu Help -> Check for update on modules and language files... and you will get a list of all files/modules with a newer version.
Afrikaans
(1)
Albanian
(1)
Brazilian Portuguese
(1)
Bulgarian
(1)
Catalan
(1)
Chinese
(2)
Czech
(1)
Danish
(1)
Dutch
(1)
Finnish
(1)
French
(1)
German
(1)
Greek
(1)
Hindi
(1)
Hungarian
(1)
Italian
(1)
Japanese
(1)
Korean
(1)
Malay
(1)
Polish
(1)
Romanian
(1)
Russian
(1)
Serbian
(2)
Slovak
(1)
Spanish
(2)
Thai
(1)
Ukrainian
(1)

Stay tuned!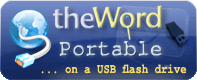 Useful links
Email updates
Enter your email to be notified for updates on program and modules
Is it safe to give you my email?
Latest version
The latest version of theWord is 6.0.0.1527.
Find out how you can check what version you are using
Random verse
And salvation is in none other, for neither is there another name under heaven which is given among men by which we must be saved. (Acts 4:12)