Totally free? Are you sure?
Absolutely!
The Word is totally free. You don't have to pay anything to download or use it. You will never be asked to register anywhere or provide your personal data in order to use the program. You will not see any advertisments from within the program either. The Word contains no spyware, adware or any other kind of 'malware' (malicious code that aims either to perform some damage on your PC or gather personal information stored in your PC).
Apart from the program itself, there are many add-on modules (Bibles, commentaries, dictionaries, books, maps, etc.) which are also free. In general, whatever is in the public domain or the copyright holder allows for it's free distribution is also provided for free for use from within The Word.
There are also cases in which there are annual fees for the right to use and distribute modules that are copyrighted. For some of them this cost is covered by other means in order for the add-on to be free to use.

last updated on Saturday, 04 July 2009
Back to FAQ

Stay tuned!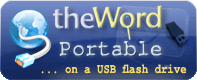 Useful links
Email updates
Enter your email to be notified for updates on program and modules
Is it safe to give you my email?
Latest version
The latest version of theWord is 6.0.0.1527.
Find out how you can check what version you are using
Random verse
For if we believe that Jesus has died and has risen again, so also God will bring with him those who have fallen asleep through Jesus. (For this we say to you in [the] word of [the] Lord, that *we*, the living, who remain to the coming of the Lord, are in no way to anticipate those who have fallen asleep; for the Lord himself, with an assembling shout, with archangel's voice and with trump of God, shall descend from heaven; and the dead in Christ shall rise first; then *we*, the living who remain, shall be caught up together with them in [the] clouds, to meet the Lord in [the] air; and thus we shall be always with [the] Lord. (1 Thessalonians 4:14-17)