Who's behind it?
The program is mainly the result of the efforts of a single individual: namely, Costas Stergiou. There is no sponsor or church or any other organized business or ministry that actively supports The Word.
The program is not affiliated with any other site and it does not proclaim a specific religious dogma. Nevertheless, the official add-on modules that are distributed from this site belong to mainstream Christianity, although their distribution here does not necessarily constitute an endorsement of all their teachings.

The purpose of The Word is not to set forth or defend a particular religious or denominational view.

last updated on Saturday, 04 July 2009
Back to FAQ

Stay tuned!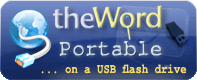 Useful links
Email updates
Enter your email to be notified for updates on program and modules
Is it safe to give you my email?
Latest version
The latest version of theWord is 6.0.0.1527.
Find out how you can check what version you are using
Random verse
but God, being rich in mercy, because of his great love wherewith he loved us, (we too being dead in offences,) has quickened us with the Christ, (ye are saved by grace,) and has raised [us] up together, and has made [us] sit down together in the heavenlies in Christ Jesus; (Ephesians 2:4-6)