Does it work on Android/iPhone/iPad?
last updated on Monday, 26 December 2016
Back to FAQ

Stay tuned!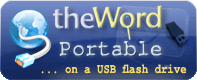 Useful links
Email updates
Enter your email to be notified for updates on program and modules
Is it safe to give you my email?
Latest version
The latest version of theWord is 6.0.0.1527.
Find out how you can check what version you are using
Random verse
and all things [are] of the God who has reconciled us to himself by [Jesus] Christ, and given to us the ministry of that reconciliation: how that God was in Christ, reconciling the world to himself, not reckoning to them their offences; and putting in us the word of that reconciliation. We are ambassadors therefore for Christ, God as [it were] beseeching by us, we entreat for Christ, Be reconciled to God. Him who knew not sin he has made sin for us, that *we* might become God's righteousness in him (2 Corinthians 5:18)