What hardware do I need?
Generally speaking, any modern Pentium PC is capable of running the program. The memory consumption is usually quite low, though it depends on the number of modules you have installed.
In general, The Word runs surprisingly well on older machines with slower CPU's and less memory. It has been tested and debugged with more than 600 modules on a 4-year old PC and has performed very well.
In general, The Word is optimized to perform most of it's tasks quickly, with no waiting whatsoever.
last updated on Saturday, 04 July 2009
Back to FAQ

Stay tuned!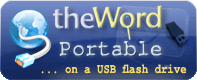 Useful links
Email updates
Enter your email to be notified for updates on program and modules
Is it safe to give you my email?
Latest version
The latest version of theWord is 6.0.0.1527.
Find out how you can check what version you are using
Random verse
Herein as to us has been manifested the love of God, that God has sent his only begotten Son into the world, that we might live through him. Herein is love, not that we loved God, but that he loved us, and sent his Son a propitiation for our sins. (I John 4:9,10)