What operating system does it run on?
theWord has been developed for the Windows operating system, and is compatible with Windows 98 upwards (including Windows XP, Vista, Windows 7, Windows 8, Windows 10, 32bit and 64 bit editions).
Some of the unicode features are not available in older Win9x systems. There is special support for localized Win9x systems though (e.g. Arabic Windows 98 will properly display contextual shaped Arabic text). In Windows 2K upwards, there is full support for all languages.

It has also been reported to run well on Linux and Mac with the use of emulators. Please, see the relevant forum entries for how to install theWord on non-Windows operating systems.
last updated on Tuesday, 24 November 2015
Back to FAQ

Stay tuned!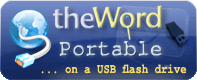 Useful links
Email updates
Enter your email to be notified for updates on program and modules
Is it safe to give you my email?
Latest version
The latest version of theWord is 6.0.0.1527.
Find out how you can check what version you are using
Random verse
For I delivered to you, in the first place, what also I had received, that Christ died for our sins, according to the scriptures; and that he was buried; and that he was raised the third day, according to the scriptures; (1 Corinthians 15:3,4)