Can I use the texts of the module add-ons (Bibles, Books, etc.) for other purposes?
It depends. For Public Domain content, you can use any module or text in whatever way you like. Before using any of the content, please verify that it is in the public domain. If you are unsure, please ask first at the forum.

However, there are several modules that are distributed for free with theWord whose content is copyrighted by their owners/publishers. You are not allowed to use these texts outside of the program or export/import/alter/modify the content in any way. The copyrighted add-ons are encrypted so that it is not possible to change their content. Please respect this and remember that using copyrighted material without the approval of the owner is equal to theft.
Please read carefully the License Agreement before attempting to reuse any text (the license can also be found from within the program, from the menu Help -> About).

last updated on Saturday, 13 November 2010
Back to FAQ

Stay tuned!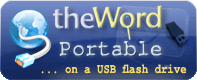 Useful links
Email updates
Enter your email to be notified for updates on program and modules
Is it safe to give you my email?
Latest version
The latest version of theWord is 6.0.0.1527.
Find out how you can check what version you are using
Random verse
My sheep hear my voice, and I know them, and they follow me; and I give them life eternal; and they shall never perish, and no one shall seize them out of my hand. My Father who has given [them] to me is greater than all, and no one can seize out of the hand of my Father. (John 10:27-29)