Can I suggest a new feature?
Of course. Actually, many of the features of the program have been developed after suggestions of users. Please use the forum to make any suggestions.
Notice, however, that the development of The Word is guided by what is perceived as most important/valuable for most users, so there is no guarantee that your suggestion will be implemented.

last updated on Saturday, 13 November 2010
Back to FAQ

Stay tuned!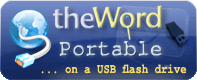 Useful links
Email updates
Enter your email to be notified for updates on program and modules
Is it safe to give you my email?
Latest version
The latest version of theWord is 6.0.0.1527.
Find out how you can check what version you are using
Random verse
Jesus said to her, I am the resurrection and the life: he that believes on me, though he have died, shall live; (John 11:25)