How can I find out which version of the program I am using?
To find out the version of theWord you are using do this:
From the main menu, select Help -> About.
In the About dialog that appears you can see the version at the lower-right corner (e.g. Version 3.0.0.586).
last updated on Saturday, 03 November 2012
Back to FAQ

Stay tuned!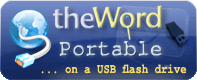 Useful links
Email updates
Enter your email to be notified for updates on program and modules
Is it safe to give you my email?
Latest version
The latest version of theWord is 6.0.0.1527.
Find out how you can check what version you are using
Random verse
And confessedly the mystery of piety is great. God has been manifested in flesh, has been justified in [the] Spirit, has appeared to angels, has been preached among [the] nations, has been believed on in [the] world, has been received up in glory. (1 Timothy 3:16)