Version 3.0.6.899 changes - 15 Sep 2009
- [new]: added drag-n-drop support for moving/copying topics between modules. This is the most important new feature of this version (see quick help here).
- [fix] minor glitches in labels that truncated text when translated in several dialogs
- [minor] deleted duplicate 'txtTarget.Hint' entry in english.lng file (merged the 2 actually)
- [fix]ed unicode hint issues with the 2 input boxes in the search views (requires testing)
- [fix]ed bug with linked Bible views: creating a new view from another one did not assign a new unique id: the synchronization behaved incorrectly when restarting.
- [fix]ed bug: pressing CTRL+SHIFT+N to rename a topic in the Book view resulted in the selected text being deleted after the actual rename
- [fix]: changing fore/back color of selected text in Bible view: toolbar icons were not refreshed properly
- [new]: holding down the ALT key while adding verse ranges to a verse list (from the Bible view or the Clipboard monitor) causes the passages to be expanded and each verse is added separately (instead of as a passage)
- [minor]: added config.ini option to override default verse highlight color in Bible view ([general]: bookview.verse.highlight.color=)
- [new]: in 'Info' dialog of Bible modules, added an 'Identifier' label at the bottom to display the module id
- when showing/hiding Bible view options (e.g. strong's, morph, xrefs, etc) the active verse get's centered after the change
- [fix]: in book view, changing active module to one with no current topic/verse failed to update the book view caption
- [minor]: change popup-tip when hovering over book-view tab to point to 'Info...' about the mod.
- [test]: disabled window ghosting to try to resolve modal dialogs that loose modality
- [minor]: in Copy Verses dialog, added more width for the 'Header' and 'Footer' checkboxes (for translation reasons)
- [fix]: deleting an entry in Books wcould fail to delete children below 2nd sub-level sometimes
- [new]: deletion of multiple topics for books allowed now (rc_bookview_deltopicconfirmX messages removed from .lng file, actDeleteTopic renamed to actDeleteSelTopics)
- [new]: adding/deleting topics should update other book views that display the same module.
- [fix]: changing layout would fail to save current changes in book view.
- [fix]: double quotes in Abbreviation, Title, Description of 'New module' dialog caused errors (module failed to be created properly)
- [fix]: incorrect topics tree representation in commentaries with option 'Show as tree' in some cases. (chapter->verse without book, Jn 1, Jn 1:1)
- [fix]: optimized saving time of large custom module sets
- [fix]: hints on view icons (system/options icon and maximize/restore) where not update during language change (also in caption of Book search view)
- [fix]: book view would ignore the 'sync' option at some cases and would change to a dictionary if it contained the required module (added a dialog to ask the user).
- [minor]: name of current module set will be displayed in book view caption
- [minor]: added registry entry when donate dialog is shown to avoid being displayed in the future
- [fix]: popup with verses follows color of active bible view
- [fix]: attempt to fix issue that 'Donate' dialog pops up more than once: extra checks added to avoid such situation (not confirmed)
- [new]: CTRL+C on a Bible view with no selection copies to clipboard the current verse (only in single Bible view display)
- [fix]: max verse list limit (1000) was not enforced if adding verse from the 'Add verses' button on the vertical toolbar of the verse list view
- [fix]: changed tamil flag
- [fix]: captions where being hidden from floating windows when 'Show/hide window captions' was clicked. This should not happen.


last updated on Saturday, 13 November 2010
Back to FAQ

Stay tuned!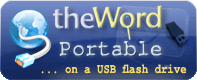 Useful links
Email updates
Enter your email to be notified for updates on program and modules
Is it safe to give you my email?
Latest version
The latest version of theWord is 6.0.0.1527.
Find out how you can check what version you are using
Random verse
See what love the Father has given to us, that we should be called [the] children of God. For this reason the world knows us not, because it knew him not. (1 John 3:1)