Version 3.0.7.900+901 changes - 18 Sep 2009
Version 3.0.7.900

The following fix of 3.0.6:
- [fix]ed unicode hint issues with the 2 input boxes in the search views (requires testing)
introduced a bug that caused problems when entering unicode characters with the keyboard in the search input boxes. Hopefully now there should be no problem either with the input of the hints.
Also corrected this:
- [minor]: added config.ini option to override default verse highlight color in Bible view ([general]: bookview.verse.highlight.color=)
The config.ini entry should be 'bibleview.verse.highlight.color' (not bookview...)

Version 3.0.7.901

Another newly introduced bug was fixed: adding/updating comment on a verse range in a commentary was not permitted if there was already a comment on the exact starting verse of the range. The 3rd version number was not changed, just the build (from 900 to 901).
last updated on Friday, 18 September 2009
Back to FAQ

Stay tuned!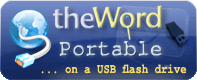 Useful links
Email updates
Enter your email to be notified for updates on program and modules
Is it safe to give you my email?
Latest version
The latest version of theWord is 6.0.0.1527.
Find out how you can check what version you are using
Random verse
For let this mind be in you which [was] also in Christ Jesus; who, subsisting in the form of God, did not esteem it an object of rapine to be on an equality with God; but emptied himself, taking a bondman's form, taking his place in [the] likeness of men; and having been found in figure as a man, humbled himself, becoming obedient even unto death, and [that the] death of [the] cross (Philippians 2:5-8)