Version 3.1.2.1026-1027 15 Mar 2010
Version 3.1.2 is just a maintenance release that fixes some rather obscure issues:
3.1.2.1027
- [fix]: morph codes where not displayed upon first launch of the program, yet the option was selected. This caused confusion to first time users

3.1.2.1026
- [fix]: image resizing would cause some images to be oversized when displayed in popups
- [fix]: Bible view options dialog was too small and the link for the 'Separate strong and morph dictionaries' was not visible
- [fix]: nearw operator fix (incorrect results in some cases)
- [fix]: clicking on a web-link caused the default browser to open, but with subsequent mouse move theWord would come in front without being activated
- [fix]: by default, copying multiple verses from bible view context menu didn't have a header: switched to previous behavior
- [fix]: bug in book view search results highlighting could cause TW to hang
- [fix]: search highlighting in Mickelson and NASEC for single Hebrew characters, cause letter-rearrangement
- [fix]: CTRL+F9, CTRL+F10, CTRL+F11 navigation shortcuts did not work properly always
- [change]: increased max verses in lists to 3000 from 1000
- [new]: added bkv.center.link.target=0|1 option in config.ini: allows centering the target topic when clicking on a link with a defined bookmark
- [fix]: in Vista and Win7, pressing F1 to display the help file caused a windows dialog to be displayed saying that "the help file cannot be displayed", although the help file was displayed
- [fix]: bug with images in tooltips appearing larger
- [fix]: hyperlink dialog would not list Map modules in the 'Books' combo box
- [new]: New user module dialog: option for map & graphics
- [new]: About dialog is now resizable. Also fixed issues with resizable dialogs with large fonts (dpi=120).
- [fix]: fixed broken unicode hints in dialogs
last updated on Monday, 15 March 2010
Back to FAQ

Stay tuned!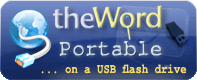 Useful links
Email updates
Enter your email to be notified for updates on program and modules
Is it safe to give you my email?
Latest version
The latest version of theWord is 6.0.0.1527.
Find out how you can check what version you are using
Random verse
For if we believe that Jesus has died and has risen again, so also God will bring with him those who have fallen asleep through Jesus. (For this we say to you in [the] word of [the] Lord, that *we*, the living, who remain to the coming of the Lord, are in no way to anticipate those who have fallen asleep; for the Lord himself, with an assembling shout, with archangel's voice and with trump of God, shall descend from heaven; and the dead in Christ shall rise first; then *we*, the living who remain, shall be caught up together with them in [the] clouds, to meet the Lord in [the] air; and thus we shall be always with [the] Lord. (1 Thessalonians 4:14-17)