Version 3.1.4.1058 - 22 May 2010
Minor release mainly for fixing a bug concerning popups (see first entry below).

- [fix]: Bug that could cause popups for strong/morph to fail (when not showing as links)
- [new]: added 'custom.caption' option in config.ini [general] section to display a custom caption
- [fix]: fixed bug when restoring application after a restart (when previously closed in maximized state), with custom windows border and windows taskbar on top (app would go below the taskbar)
- [fix]: some extra line breaks removed from some dialog(s)
- [new]: added Wine (linux/MAC) detection support: disables shadows and tips on trees
- [new]: Topics tree show in italic for empty commentary topics (test pls)
- [change]: removed popup from topics drop down in the Hyperlink dialog


last updated on Saturday, 22 May 2010
Back to FAQ

Stay tuned!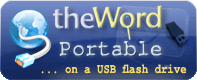 Useful links
Email updates
Enter your email to be notified for updates on program and modules
Is it safe to give you my email?
Latest version
The latest version of theWord is 6.0.0.1527.
Find out how you can check what version you are using
Random verse
And *we* have seen, and testify, that the Father has sent the Son [as] Saviour of the world. (1 John 4:14)