Version 3.1.5.1072+1074 - 22 June 2010
This release features a significant addition by allowing multiple Bibles to be searched at once. You might do so by selecting individual Bibles or by defining Bible sets that can be searched easily. The new Bible Sets can also be used in the Compare view to display them at the same time, thus allowing easy switching between different sets of Bibles.
3.1.5.1072 Detailed log:

- [new]: searching multiple Bibles
- [new]: Bible sets
- [new] updated Persian/Farsi flag
- [fix]: bug in Bible view when displaying right-to-left module along with inline commentary: Bible was not displaying properly
- [fix]: filenames with a comma (,) fail to open in explorer shell (module properties, About box, etc)
- [fix]: unicode Bible book names in popups where corrupted
- [fix]: when headers got hidden in Bible view, there were errors displaying inline commentaries
- [fix]: when closing the Clipboard Monitor window clicking the X button, focus now goes back to the active application
- [fix]: 'extra.paths' var in config failed when more than one paths were specified
- [fix]: Applying a saved user layout in Vista that contained floating views caused theWord to crash
- [fix]: floating view was not properly restored on multi-monitor systems some times
- [fix]: inline commentaries in Bible view were corrupted if not showing header/footer
- [fix]: popup window could get focus by moving mouse fast and clicking over it (without the shift button being pressed)
- [fix]: popup window truncates text and misbehaves first time it is being displayed
- [fix]: topics tree out of sync if displaying after changing topic
3.1.5.1074 (minor bug fixes)
- [fix]: bug when displaying search text results inline
- [fix]: minor bug in verse detection in book view

last updated on Monday, 21 June 2010
Back to FAQ

Stay tuned!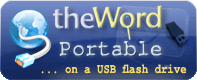 Useful links
Email updates
Enter your email to be notified for updates on program and modules
Is it safe to give you my email?
Latest version
The latest version of theWord is 6.0.0.1527.
Find out how you can check what version you are using
Random verse
For let this mind be in you which [was] also in Christ Jesus; who, subsisting in the form of God, did not esteem it an object of rapine to be on an equality with God; but emptied himself, taking a bondman's form, taking his place in [the] likeness of men; and having been found in figure as a man, humbled himself, becoming obedient even unto death, and [that the] death of [the] cross (Philippians 2:5-8)