I lost my unlock data/serial number! How can I recover it?
If you have lost the activation email of a module you purchased, you can request it again by going to the Recover your unlock data page.
You will need to know the email you used to register your purchased module.

last updated on Friday, 02 July 2010
Back to FAQ

Stay tuned!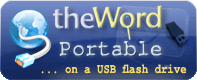 Useful links
Email updates
Enter your email to be notified for updates on program and modules
Is it safe to give you my email?
Latest version
The latest version of theWord is 6.0.0.1527.
Find out how you can check what version you are using
Random verse
And *we* have seen, and testify, that the Father has sent the Son [as] Saviour of the world. (1 John 4:14)