1121
Felix wrote on Tuesday, 26 April 2005 17:49:
Dear Costas: There will be any time a spanish translation?. It should be great for millions of people. The program is wonderfull. Thanks!
1122
chrisjohn316 wrote on Tuesday, 26 April 2005 16:08:
Costas this is a good work you are doing. May God continue to bless and guide you always, peace be with you, chrisjohn316, Latin Rite Catholic.
1123
Pastor Egunfemi T.Dare wrote on Tuesday, 12 April 2005 10:42:
Dear sir,this my frist time of viewing your web site.Sir like me that came from a poor area that l dont have the money to print all the pages,what can you do to help,in other to get the for my Church Bible Study.Name of my Church is,CHRIST APOSTOLIC CHURCH ONA ABAYO in Lagos Nigeria.The address:20 Adeleye Street ljegun,Lagos Nigeria:234 8055905264.l will be happy to hear from you sir.
May God contiune to proclaim HIMSELF in your Ministry,remain bless in Jesus Name.THANKS
1124
Hartmut wrote on Tuesday, 11 November 2003 13:36:
Dear Costas,

I´m very surprised about your program

Pages (57): « ... 52 53 54 55 56 57

Stay tuned!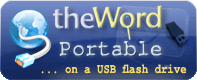 Useful links
Email updates
Enter your email to be notified for updates on program and modules
Is it safe to give you my email?
Latest version
The latest version of theWord is 6.0.0.1527.
Find out how you can check what version you are using
Random verse
I say unto you, that thus there shall be joy in heaven for one repenting sinner, [more] than for ninety and nine righteous who have no need of repentance. (Luke 15:7)