theWord and the accompanying module library is updated very often, so you may want to come back often to this page to see what's new. Alternatively, you may sign-up to receive email notifications. To do so, enter your email address to the box on the right.

Stay tuned!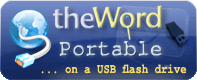 Useful links
Email updates
Enter your email to be notified for updates on program and modules
Is it safe to give you my email?
Latest version
The latest version of theWord is 6.0.0.1527.
Find out how you can check what version you are using
Random verse
Jesus says to him, I am the way, and the truth, and the life. No one comes to the Father unless by me. (John 14:6)