theWord and the accompanying module library is updated very often, so you may want to come back often to this page to see what's new. Alternatively, you may sign-up to receive email notifications. To do so, enter your email address to the box on the right.

Eerdmans Dictionary of the Bible
Nearly
5,000 articles
written by
600 first-rate Bible authorities
thoroughly explaining books, persons, places and significant terms of the Bible
Stay tuned!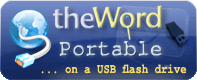 Useful links
Email updates
Enter your email to be notified for updates on program and modules
Is it safe to give you my email?
Latest version
The latest version of theWord is 6.0.0.1527.
Find out how you can check what version you are using
Random verse
So if any one [be] in Christ, [there is] a new creation; the old things have passed away; behold all things have become new: (2 Corinthians 5:17)