Theological Wordbook of the Old Testament
Extensive, scholarly discussion of every Hebrew word of theological significance in the Old Testament. Keyed to Strong's Concordance.
Stay tuned!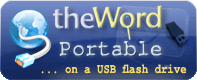 Useful links
Email updates
Enter your email to be notified for updates on program and modules
Is it safe to give you my email?
Latest version
The latest version of theWord is 5.0.0.1450.
Find out how you can check what version you are using
Random verse
And salvation is in none other, for neither is there another name under heaven which is given among men by which we must be saved. (Acts 4:12)