A year's worth of devotional reading ideal for learning the basics of Christian doctrine.
Covering the entire summary of basic Christian doctrine from bibliology to eschatology, Approaching God is organized systematically and divided into 365 portions for daily reading. Enns uses everyday illustrations and non-theology language, resulting in a highly readable and inviting format.

"I know of no other devotional book that handles day-by-day basic Christian doctrine in a powerful way for the whole family like this book does." —Joe Jordan
Read more and see samples at the product page.

Back to News

Theological Dictionary of the New Testament, Abridged in One Volume
More than 2000 entries, the "Little Kittel" is considered by many the best New Testament dictionary ever compiled
Stay tuned!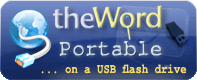 Useful links
Email updates
Enter your email to be notified for updates on program and modules
Is it safe to give you my email?
Latest version
The latest version of theWord is 5.0.0.1450.
Find out how you can check what version you are using
Random verse
For I delivered to you, in the first place, what also I had received, that Christ died for our sins, according to the scriptures; and that he was buried; and that he was raised the third day, according to the scriptures; (1 Corinthians 15:3,4)