Surveying the scenery of Scripture; Each chapter of each book of the Bible plainly summarised and explained
This is a unique introduction to and survey of the Bible, giving an overview of each book of the Bible and taking into consideration the message of each verse, without actually being a verse-by-verse commentary (Part One). It provides a series of very memorable outlines for each chapter of the Bible. It also includes a succinct, but vigorous defense of the Bible and concludes with a number of reading schemes to guide readers through Scripture.
Read more and see samples at the product page.
Tuesday, 07 February 2012
Back to News

Stay tuned!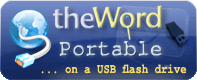 Useful links
Email updates
Enter your email to be notified for updates on program and modules
Is it safe to give you my email?
Latest version
The latest version of theWord is 5.0.0.1450.
Find out how you can check what version you are using
Random verse
For God so loved the world, that he gave his only-begotten Son, that whosoever believes on him may not perish, but have life eternal. (John 3:16)