This collection of uplifting, informative stories behind your favorite hymns will warm your heart and revitalize your worship. Each entry comes with the hymn's full text and musical score.
• Scores are included within each hymn (see samples below).
• Each entry includes the full text of each hymn and the story of its composition
• Information about all authors, composers, data on the tune name and meter
• Selected bibliography for further reading and research in the field of hymnology
Read more information, check all the hymns included and see samples at the product page.
Back to News

New International Version 2011
Includes more than 110,000 cross-references, translator's notes, passage headings, parallel passages, word of Jesus in red, poetry and prose text indentation.
Stay tuned!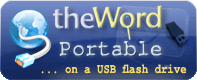 Useful links
Email updates
Enter your email to be notified for updates on program and modules
Is it safe to give you my email?
Latest version
The latest version of theWord is 5.0.0.1450.
Find out how you can check what version you are using
Random verse
I am the vine, ye [are] the branches. He that abides in me and I in him, *he* bears much fruit; for without me ye can do nothing. (John 15:5)