The Revised Chinese Union Version 和合本修訂版 和合本修订版 from the Hong Kong Bible Society is now available for theWord.
Since Chinese Union Bible's first publication in 1919, it has gained wide acceptance into the Chinese Church and become over the years the authorized, canonical version for Chinese Protestants. However, the Chinese language has undergone tremendous changes over the past decades. Certain words and expressions that formerly sounded smooth and natural have since become unnatural and unintelligible. In view of this, United Bible Societies held consultations in Hong Kong, Singapore and other regions as early as in 1983, to explain to Christian believers the need for a revision.
Read more at the product pages:
Revised Chinese Union Version 和合本修訂版 和合本修订版, Simplified Chinese 简体版
Revised Chinese Union Version 和合本修訂版 和合本修订版, Traditional Chinese 繁體版
Back to News

Stay tuned!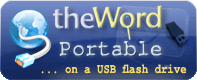 Useful links
Email updates
Enter your email to be notified for updates on program and modules
Is it safe to give you my email?
Latest version
The latest version of theWord is 5.0.0.1450.
Find out how you can check what version you are using
Random verse
For ye are saved by grace, through faith; and this not of yourselves; it is God's gift: not on the principle of works, that no one might boast. (Ephesians 2:8,9)