The Jewish Publication Society Tanakh 1917 is now published.
This JPS 1917 Tanakh includes both original and subsequent transcribers footnotes, and poetic versification. The original JPS notes are shown as alphabetic footnotes. A few corrections of the base materials, and differences with the later Nelson copyrighted text are shown by the transcribers and are included as numeric footnotes.
Read more at the downloads section or download here.
Back to News

Stay tuned!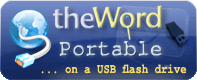 Useful links
Email updates
Enter your email to be notified for updates on program and modules
Is it safe to give you my email?
Latest version
The latest version of theWord is 5.0.0.1450.
Find out how you can check what version you are using
Random verse
For if we believe that Jesus has died and has risen again, so also God will bring with him those who have fallen asleep through Jesus. (For this we say to you in [the] word of [the] Lord, that *we*, the living, who remain to the coming of the Lord, are in no way to anticipate those who have fallen asleep; for the Lord himself, with an assembling shout, with archangel's voice and with trump of God, shall descend from heaven; and the dead in Christ shall rise first; then *we*, the living who remain, shall be caught up together with them in [the] clouds, to meet the Lord in [the] air; and thus we shall be always with [the] Lord. (1 Thessalonians 4:14-17)