The Jewish Publication Society Tanakh 1917 is now published.
This JPS 1917 Tanakh includes both original and subsequent transcribers footnotes, and poetic versification. The original JPS notes are shown as alphabetic footnotes. A few corrections of the base materials, and differences with the later Nelson copyrighted text are shown by the transcribers and are included as numeric footnotes.
Read more at the downloads section or download here.
Back to News

The Bible Panorama (revised 2nd edition)
Surveying the scenery of Scripture; Each chapter of each book of the Bible plainly summarised and explained
Stay tuned!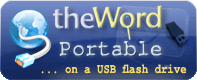 Useful links
Email updates
Enter your email to be notified for updates on program and modules
Is it safe to give you my email?
Latest version
The latest version of theWord is 5.0.0.1450.
Find out how you can check what version you are using
Random verse
but God, being rich in mercy, because of his great love wherewith he loved us, (we too being dead in offences,) has quickened us with the Christ, (ye are saved by grace,) and has raised [us] up together, and has made [us] sit down together in the heavenlies in Christ Jesus; (Ephesians 2:4-6)