Make Bible study a part of your daily life with the thorough yet easy-to-use Believer's Bible!
MacDonald tackles the controversial issues head-on, taking a theologically conservative stand, yet presenting alternate views with fairness. The Believer's Bible Commentary is a friendly guide to exploring the deeper meanings of every biblical book.
Read more at the product's page.
Back to News

Stay tuned!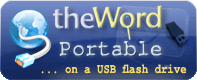 Useful links
Email updates
Enter your email to be notified for updates on program and modules
Is it safe to give you my email?
Latest version
The latest version of theWord is 5.0.0.1450.
Find out how you can check what version you are using
Random verse
Again therefore Jesus spoke to them, saying, I am the light of the world; he that follows me shall not walk in darkness, but shall have the light of life. (John 8:12)