The most comprehensive study Bible available! More than 60 million copies sold in 30 years.
The NKJV Study Bible, Second Edition, is the most comprehensive study Bible available! It has the most complete study system for pastors, teachers, or students who desire accurate study in God's Word.
Read more at the product's page.
Back to News

Theological Wordbook of the Old Testament
Extensive, scholarly discussion of every Hebrew word of theological significance in the Old Testament. Keyed to Strong's Concordance.
Stay tuned!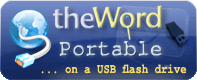 Useful links
Email updates
Enter your email to be notified for updates on program and modules
Is it safe to give you my email?
Latest version
The latest version of theWord is 5.0.0.1450.
Find out how you can check what version you are using
Random verse
and walk in love, even as the Christ loved us, and delivered himself up for us, an offering and sacrifice to God for a sweet-smelling savour. (Ephesians 5:2)