Take a fresh look at the Bible while you experience a new translation!
The Common English Bible combines a commitment to both accuracy and readability. The result is a new version of the Bible the typical reader or worshipper is able to understand with ease. Written in today's modern English, the Common English Bible was created through the careful work of 120 leading biblical scholars from 24 faith traditions and thorough field tests by 77 reading groups.
Read more at the product page.
Back to News

Believer's Bible Commentary
Make Bible study a part of your daily life with the thorough yet easy-to-use Believer's Bible
Stay tuned!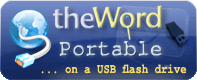 Useful links
Email updates
Enter your email to be notified for updates on program and modules
Is it safe to give you my email?
Latest version
The latest version of theWord is 5.0.0.1450.
Find out how you can check what version you are using
Random verse
I say unto you, that thus there shall be joy in heaven for one repenting sinner, [more] than for ninety and nine righteous who have no need of repentance. (Luke 15:7)