Shoroshim by Reuven Brauner may be the most comprehensive list of Hebrew Verb roots ever published with close to 3300 entries.
The verb roots are presented with definitions, synonyms and derivative meanings in thesaurus form, laid out in a clear, delightful and aesthetic manner.

CLEAR
Unlike ordinary dictionaries which are cluttered with permutations and combinations of grammatical forms for the same root, Shoroshim efficiently cuts right to the root.
Shoroshim provides easy guidelines to assist in the often complex and frustrating effort to determine a verb root.

DEEP
Shoroshim covers all periods in the development of the Hebrew language, from the Biblical period through modern Hebrew. Shoroshim includes a large number of obscure and obsolete roots, particularly helpful to the scholar and academic.

FUN AND EASY
Shoroshim is fun and easy to use, an indispensable quick reference source for all students and translators of Hebrew.

EXCLUSIVE AND FREE
Shoroshim is a seminal unique work, available only from Talmudic Books at Halakhah.com. Please visit to peruse and download the work.
Download now for free from the download page.
Back to News

New Living Translation®, Second Edition
The Holy Bible, New Living Translation provides a wonderful balance of readability and authority
Stay tuned!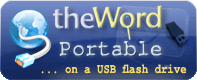 Useful links
Email updates
Enter your email to be notified for updates on program and modules
Is it safe to give you my email?
Latest version
The latest version of theWord is 5.0.0.1450.
Find out how you can check what version you are using
Random verse
Jesus said to her, I am the resurrection and the life: he that believes on me, though he have died, shall live; (John 11:25)