The Greek Testament, by Henry Alford, is now available for download.
The Greek Testament, by Henry Alford ranks among the most important and authoritative works on the Greek text of the New Testament. This module contains Alford's Greek New Testament text.
The module is only the New Testament text, without any commentary. You can download it from the Bible downloads page.
Back to News

IVP Bible Background Commentary, Old Testament
One-of-a-kind commentary on the cultural background of the Pentateuch
Stay tuned!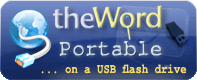 Useful links
Email updates
Enter your email to be notified for updates on program and modules
Is it safe to give you my email?
Latest version
The latest version of theWord is 5.0.0.1450.
Find out how you can check what version you are using
Random verse
So if any one [be] in Christ, [there is] a new creation; the old things have passed away; behold all things have become new: (2 Corinthians 5:17)