A partial Japanese interface translation is now available.
Although not 100% complete, a Japanese translation is now available. Get it from the Program Translations section.
Back to News

International Standard Version Bible (ISV)
A Totally New, "Literal and Idiomatic" Translation, praised for its Accuracy, Clarity and Readability
Stay tuned!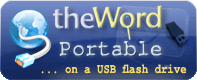 Useful links
Email updates
Enter your email to be notified for updates on program and modules
Is it safe to give you my email?
Latest version
The latest version of theWord is 5.0.0.1450.
Find out how you can check what version you are using
Random verse
and walk in love, even as the Christ loved us, and delivered himself up for us, an offering and sacrifice to God for a sweet-smelling savour. (Ephesians 5:2)