You Can Understand the Bible: Study Guide Commentary Series by Dr. Bob Utley
These verse-by-verse, exegetical commentaries are committed to the trustworthiness and authority of Scripture, emphasizing the intent of the original inspired authors by means of their:
• Historical Setting
• Literary Context
• Grammatical Features
• Choice of Words
• Genre
• Parallel Passages
Download now for free from the download page.
Back to News

IVP Bible Background Commentary, New Testament
Voted one of Christianity Today's 1995 Books of the Year!
Stay tuned!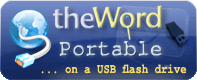 Useful links
Email updates
Enter your email to be notified for updates on program and modules
Is it safe to give you my email?
Latest version
The latest version of theWord is 5.0.0.1450.
Find out how you can check what version you are using
Random verse
For God so loved the world, that he gave his only-begotten Son, that whosoever believes on him may not perish, but have life eternal. (John 3:16)