Abbot-Smith's A Manual Lexicon of the New Testament was written to offer an update to older lexicons those written before the discovery of manuscripts demonstrating that the New Testament was written in koine Greek, rather than a Hebrew variant of classical Greek.
It was also written to be a quick reference guide for students of the New Testament to use while reading their Greek text. It adopts the textual standard of Moulton and Geden's Concordance to the Greek New Testament by following the Westcott & Hort Greek text.
Features:
• Keyed to Strong's numbers
• Synonyms Keyed to Strong's numbers
• Hebrew words are replaced by Strong's numbers (where Hebrew could not be replaced by Strong's the Hebrew remains)
• where there is only a "see" definition that Strong's number is given
• Color coding of links for easy reference
• Hyperlinks for all abbreviations
Download now from the Dictionaries section.
This module is a conversion of the one from biblesupport.com with some minor additions.
Back to News

Eerdmans Dictionary of the Bible
Nearly
5,000 articles
written by
600 first-rate Bible authorities
thoroughly explaining books, persons, places and significant terms of the Bible
Stay tuned!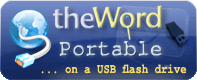 Useful links
Email updates
Enter your email to be notified for updates on program and modules
Is it safe to give you my email?
Latest version
The latest version of theWord is 5.0.0.1450.
Find out how you can check what version you are using
Random verse
For if we believe that Jesus has died and has risen again, so also God will bring with him those who have fallen asleep through Jesus. (For this we say to you in [the] word of [the] Lord, that *we*, the living, who remain to the coming of the Lord, are in no way to anticipate those who have fallen asleep; for the Lord himself, with an assembling shout, with archangel's voice and with trump of God, shall descend from heaven; and the dead in Christ shall rise first; then *we*, the living who remain, shall be caught up together with them in [the] clouds, to meet the Lord in [the] air; and thus we shall be always with [the] Lord. (1 Thessalonians 4:14-17)