An additional 10 Bibles for various languages have been added to the official Library. You can find them in the downloads section.

The complete list is:
Albanian Bible
Western Armenian New Testament of 1853
Judson Burmese Bible of 1835
Cebuano Ang Biblia, Bugna Version
Hungarian Vizsoly (Karoli) Biblia of 1590
Holy Bible: Korean Translation
Malagasy Bible of 1865
Maori Bible
Holy Bible in Serbian
Ivan Ogienko Ukrainian Bible of 1930
Saturday, 26 September 2009
Back to News

Stay tuned!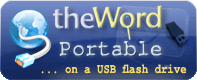 Useful links
Email updates
Enter your email to be notified for updates on program and modules
Is it safe to give you my email?
Latest version
The latest version of theWord is 5.0.0.1450.
Find out how you can check what version you are using
Random verse
Come to me, all ye who labour and are burdened, and *I* will give you rest. Take my yoke upon you, and learn from me; for I am meek and lowly in heart; and ye shall find rest to your souls; for my yoke is easy, and my burden is light. (Matthew 11:28-30)