This popular German Bible translation from Geneva Bible Society is now updated to include the Psalms
See the product page for more information.
If you have already purchased this module, you can update to the new version that includes the Psalms from within theWord by going to the menu Help -> Check for updates on modules and languages files (direct link here). Please notice that if you install the updated version you will end up with two different copies of the Bible translation; read this forum post for more information.
Tuesday, 17 December 2013
Back to News

Stay tuned!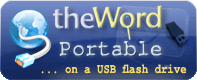 Useful links
Email updates
Enter your email to be notified for updates on program and modules
Is it safe to give you my email?
Latest version
The latest version of theWord is 5.0.0.1450.
Find out how you can check what version you are using
Random verse
Herein as to us has been manifested the love of God, that God has sent his only begotten Son into the world, that we might live through him. Herein is love, not that we loved God, but that he loved us, and sent his Son a propitiation for our sins. (I John 4:9,10)