Open Windows is a daily devotional of excerpts from the writings of T. Austin-Sparks.
This devotional contains short daily portions from a selection of Austin Sparks' messages. In his own words, "Perhaps this is just like a window opened into heaven. If you get the right window you can see quite a lot. You can see great things and you can see far things. But the best that I can hope is that this has just opened a window, and that as you look through it you are seeing one thing - how superior is Jesus Christ to all else, and how superior is the dispensation into which we have come, and how superior are all the resources at our disposal to all that ever was before!"
Download it from the Devotionals section.
Back to News

101 More Hymn Stories
Get the story behind your favorite Hymns and their music score!
Stay tuned!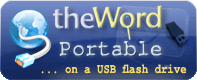 Useful links
Email updates
Enter your email to be notified for updates on program and modules
Is it safe to give you my email?
Latest version
The latest version of theWord is 5.0.0.1450.
Find out how you can check what version you are using
Random verse
For God so loved the world, that he gave his only-begotten Son, that whosoever believes on him may not perish, but have life eternal. (John 3:16)