A massive collection of 40 titles for almost every book of the Bible.
Comprehensive and accessible, the New International Commentary is one of the most highly regarded resources of current scholarship.
Prepared by world-renowned authorities, it reflects exacting study of the original Greek and offers careful exegesis with preachers' and teachers' concerns in mind. Critical comments are footnoted; grammatical, textual, and historical details are appended.
Each commentary opens with an introduction to the biblical book in question, looking especially at questions concerning its background, authorship, date, purpose, structure, and theology. A select bibliography also points readers to resources for their own study. The author's own translation from the original Hebrew and Greek texts forms the basis of the commentary proper. Verse-by-verse comments nicely balance the in-depth discussions of technical matters—such as textual criticism and critical problems—with exposition of the biblical writer's theology and its implications for the life of faith today.
Titles are available individually and in several sets. Find out more details now in the Commentaries Section.
Back to News

Stay tuned!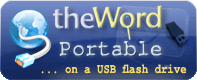 Useful links
Email updates
Enter your email to be notified for updates on program and modules
Is it safe to give you my email?
Latest version
The latest version of theWord is 5.0.0.1450.
Find out how you can check what version you are using
Random verse
For let this mind be in you which [was] also in Christ Jesus; who, subsisting in the form of God, did not esteem it an object of rapine to be on an equality with God; but emptied himself, taking a bondman's form, taking his place in [the] likeness of men; and having been found in figure as a man, humbled himself, becoming obedient even unto death, and [that the] death of [the] cross (Philippians 2:5-8)