BasisBijbel - de Bijbel in makkelijk Nederlands
De BasisBijbel is een Bijbel in makkelijk Nederlands, geschreven door J.Kleyn. Hij is bedoeld voor iedereen die de Bijbel liever wat makkelijker heeft. Door de woordkeus is hij heel geschikt voor beginnende Bijbellezers. En door de korte zinnen en korte woorden is hij ook goed te lezen door mensen die lezen moeilijk vinden, bijvoorbeeld vanwege dyslexie.
Het werk aan de BasisBijbel begon najaar 1998 en werd afgerond voorjaar 2013. Bij het schrijven van deze Bijbel werd geprobeerd om 'basis-Nederlands' te gebruiken. Doel was om de Bijbel voor zoveel mogelijk mensen begrijpelijk te maken. Echte Bijbelwoorden (bijvoorbeeld zondvloed, tabernakel) zijn vervangen door gewonere (grote overstroming, tent). Hier en daar is tekst toegevoegd om een zin duidelijker te maken. Deze woorden zijn weergegeven in grijs. In aantekeningen worden dingen uitgelegd en zijn verbanden te ontdekken met andere Bijbelgedeelten.
De Bijbel ging eerst van start onder de naam BasicBijbel, maar sinds oktober 2015 gaat hij verder als BasisBijbel, omdat deze naam meer duidelijkheid geeft dat het om een Nederlandstalige Bijbel gaat.
De BasisBijbel mag niet als vertaling beoordeeld worden. Het is meer een 'hertaling.' De oude Statenvertaling is daarbij als uitgangspunt gebruikt. Slechts hier en daar is daarvan afgeweken en is een andere vertaling gevolgd.
Back to News

Amplified Bible
Formal equivalence (word for word); Includes more than 6000 cross-references, footnotes, red letters, 14 colored maps.
Stay tuned!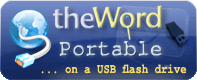 Useful links
Email updates
Enter your email to be notified for updates on program and modules
Is it safe to give you my email?
Latest version
The latest version of theWord is 5.0.0.1450.
Find out how you can check what version you are using
Random verse
For I delivered to you, in the first place, what also I had received, that Christ died for our sins, according to the scriptures; and that he was buried; and that he was raised the third day, according to the scriptures; (1 Corinthians 15:3,4)