A new commentary module with the variant readings of the New Testament has been made available.
This module gives the main variant readings of the Greek New Testament. Since there are thousands of manuscripts of the NT, it is natural that there are differences between them, and it is not always easy to determine which was the original reading, even if the text of 99% of the verses is clear.
In this module, the variants of a verse, if they exist, are listed separated by an empty line. The text of the SBL Greek New Testament is always given first, and the alternative readings are on the following lines. Every reading is followed by the witnesses, that is the manuscripts that contain it.
The order for the witnesses is: papyri, uncials, families, minuscules, lectionaries, ancient versions, fathers, editions, and Italian translations.
Back to News

Stay tuned!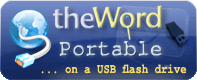 Useful links
Email updates
Enter your email to be notified for updates on program and modules
Is it safe to give you my email?
Latest version
The latest version of theWord is 5.0.0.1450.
Find out how you can check what version you are using
Random verse
Be ye therefore imitators of God, as beloved children, and walk in love, even as the Christ loved us, and delivered himself up for us, an offering and sacrifice to God for a sweet-smelling savour. (Ephesians 5:1,2)