TWOT maintenance release.
Over time diligent ones have noted anomalies in the Hebrew. Mostly it was a space issue that split the word, with a subsequent issue in the topic list. Some subtopics only had one letter instead of a full word. theWord team have spent many hours correcting these, checking in the physical book. Now your research will be enhanced.
Update your resource or purchase it for the first time through theWord's built-in downloader 'Add Titles'
Jon (JG)
Back to News

Stay tuned!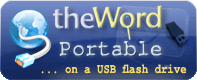 Useful links
Email updates
Enter your email to be notified for updates on program and modules
Is it safe to give you my email?
Latest version
The latest version of theWord is 5.0.0.1450.
Find out how you can check what version you are using
Random verse
Jesus said to her, I am the resurrection and the life: he that believes on me, though he have died, shall live; (John 11:25)