There are five new Indian language Bible modules available from The Word's official library. All of these modules are courtesy
WordOfGod.in
. You can find them in the
downloads section
.
Here is the list of new modules:
Hindi Bible
Hmar Bible
Kannada KJV Bible
Malayalam New Testament
Telugu Bible
Tuesday, 29 September 2009
Back to News

Believer's Bible Commentary
Make Bible study a part of your daily life with the thorough yet easy-to-use Believer's Bible
Stay tuned!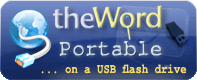 Useful links
Email updates
Enter your email to be notified for updates on program and modules
Is it safe to give you my email?
Latest version
The latest version of theWord is 5.0.0.1450.
Find out how you can check what version you are using
Random verse
For God is one, and [the] mediator of God and men one, [the] man Christ Jesus, who gave himself a ransom for all, the testimony [to be rendered] in its own times; (1 Timothy 2:5,6)