New Paid Commentary Resource, by Jon Courson.
Description: Jon Courson is one of the most exhilarating ministers today. In his unique style, Pastor Jon has written an Old Testament commentary that is a scholarly work, but is easy to read and makes practical applications for us in our daily walk with Jesus. This volume completes Jon Courson's verse-by-verse commentary on the Old Testament. It is your opportunity to study the Bible with one of the great Bible teachers of our time.
This resource is in a Hybrid Book format, meaning it will synchronize with the Bible verses as you scroll the Bible.
Back to News

Stay tuned!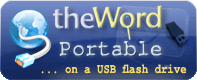 Useful links
Email updates
Enter your email to be notified for updates on program and modules
Is it safe to give you my email?
Latest version
The latest version of theWord is 5.0.0.1450.
Find out how you can check what version you are using
Random verse
For I delivered to you, in the first place, what also I had received, that Christ died for our sins, according to the scriptures; and that he was buried; and that he was raised the third day, according to the scriptures; (1 Corinthians 15:3,4)