New Paid Commentary Resource, by Jon Courson.
Description: In a unique blend of pertinent information and inspiration, Jon Courson sheds light in a fresh way on the timeless truths of God's Word. He has amassed a wealth of interesting topics in a very readable and comfortable expositional style. He combines thorough and comprehensive teaching of every paragraph of Scripture in the New Testament along with practical in-depth topical studies.
He has a unique ability to articulate the Bible's truths with insight, focusing on valid life applications. This commentary is very useful for laymen as well as ministers of the gospel.
This resource is in a Hybrid Book format, meaning it will synchronize with the Bible verses as you scroll the Bible.
Back to News

Stay tuned!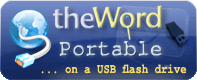 Useful links
Email updates
Enter your email to be notified for updates on program and modules
Is it safe to give you my email?
Latest version
The latest version of theWord is 5.0.0.1450.
Find out how you can check what version you are using
Random verse
and walk in love, even as the Christ loved us, and delivered himself up for us, an offering and sacrifice to God for a sweet-smelling savour. (Ephesians 5:2)