Major upgrade to SBLGNT Bible.
SBLGNT now includes Strong's numbers, Lemmas and Morphological data.
Note: You should also update your RMAC to version 1.2 which now covers some additional codes in the SBLGNT.
Back to News

Approaching God
A year's worth of devotional reading ideal for learning the basics of Christian doctrine.
Stay tuned!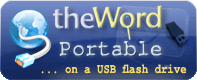 Useful links
Email updates
Enter your email to be notified for updates on program and modules
Is it safe to give you my email?
Latest version
The latest version of theWord is 5.0.0.1450.
Find out how you can check what version you are using
Random verse
Faithful [is] the word, and worthy of all acceptation, that Christ Jesus came into the world to save sinners (1 Timothy 1:15)