Major upgrade to SBLGNT Bible.
SBLGNT now includes Strong's numbers, Lemmas and Morphological data.
Note: You should also update your RMAC to version 1.2 which now covers some additional codes in the SBLGNT.
Back to News

Stay tuned!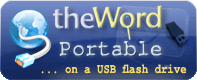 Useful links
Email updates
Enter your email to be notified for updates on program and modules
Is it safe to give you my email?
Latest version
The latest version of theWord is 5.0.0.1450.
Find out how you can check what version you are using
Random verse
Come to me, all ye who labour and are burdened, and *I* will give you rest. Take my yoke upon you, and learn from me; for I am meek and lowly in heart; and ye shall find rest to your souls; for my yoke is easy, and my burden is light. (Matthew 11:28-30)